About Vaccine Units
Antisera Vaccine
Antisera / Antitoxin Unit
Antisera are native sera or preparations from native sera containing specific immunoglobulin that have prophylactic or therapeutic action when injected into persons exposed to or suffering from a disease caused by a specific micro-organism. Antisera are prepared by injecting antigens or venoms into healthy animals such as horses so as to produce in them antibodies which are normally associated with a globulin fraction serum. When a satisfactory degree of the immunity is produced large volume of blood are withdrawn from the animal and plasma is processed to produce specific antisera.
FUNCTIONS AND RESPONSIBILITIES:
Antisera unit is responsible for potency testing and lot release of antiserum and antitoxin products.
This unit receive approximately 450 batches of antiserum and antitoxin products viz. Snake venom antiserum, Scorpion venom antiserum, Diphtheria antitoxin, Tetanus antitoxin, Rabies antiserum, and mixed gas gangrene antitoxin for testing and lot release annually.
Samples received from Drug Inspectors, Medical Store depots and field samples are tested as per their request. AEFI samples are tested as per the safety parameters.
Antisera Unit has qualified and experienced staff to review summary lot protocols, Dossiers and to perform the potency testing, identity and physical aspect of the samples.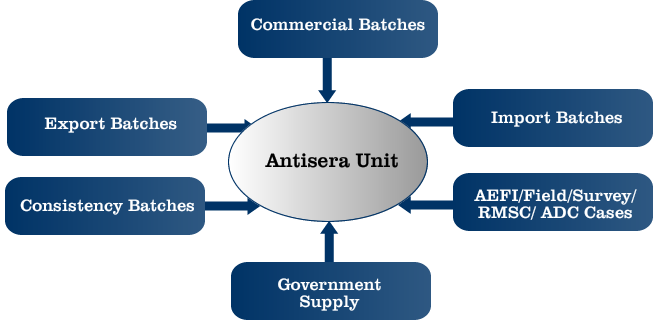 AEFI- adverse events following immunisation
RMSC- Rajasthan Medical Store Corporation
ADC- Assistant Drug Controller