About Vaccine Units
Bacterial Vaccine
Bacterial Vaccine Unit
An overview on the working of Bacterial Vaccines Unit
Bacterial Vaccines Unit (BVU) is a sub-laboratory with in Central Drugs Laboratory (CDL) and is assigned with the responsibility of testing and lot release activities of the bacterial and other combination vaccines (having one or more components of bacterial origin). The lab encourages the sample senders for technical discussions. The lab is open to receive positive as well as negative feedback from its customers
Main source of samples received for testing and / or Lot Release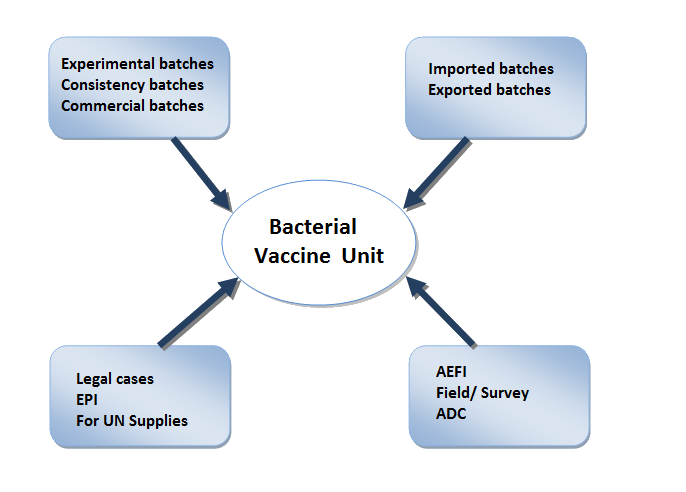 The lab evaluates the products on quality of the vaccines based on safety and efficacy parameters. Annually, bacterial vaccine unit receives around 3000 batches of the various bacterial vaccines for testing & /or pre-release certification. The batches received from manufacturers, importers (through port authorities) and from inspecting authorities for EPI supply are subjected to lot release. Considering the number of batches received; the lab subjects the samples for testing based on the track record of the manufacturer and trend analysis. However, each such batch is subjected to at least stringent protocol review and no batch is exempted from lot release. For the samples received from drug inspectors, field etc. the samples are tested as per the study orders of the Director / Officer-in-charge of CDL. For testing pharmacopoeia / international guidelines or other established/approved specifications are followed to ensure the safety, efficacy and quality of the product.
This unit has qualified, trained & experienced scientists to review the summary lot protocol and to perform the quality control analysis of vaccine samples. Quality control tests performed on the vaccines includes In-Vivo as well as In-Vitro assays as per the requirements of the testing.
To make a move towards digitalization and to overcome shortage of storage space, the lab has taken an initiative and every manufacturer is asked to submit the soft copies of the summary lot protocols along with hard copies. The lab intends to move towards the paper less work in future.
Additional Responsibilities
Reviews the dossiers (CMC Module 3) pertaining to Bacterial or combination vaccines submitted by the manufacturer / importers as per the directions of the National Regulatory Authority for marketing authorization.
Gives opinion on the Post Approval Changes is also given by the lab for the bacterial and other combination vaccine having at least one of the bacterial components.
Participation in the internal audit of Central Drugs Laboratory as per the audit plan.
Assists in Quality Assurance activities.
Participates in technical discussion with manufacturers on issues pertaining to bacterial vaccines.